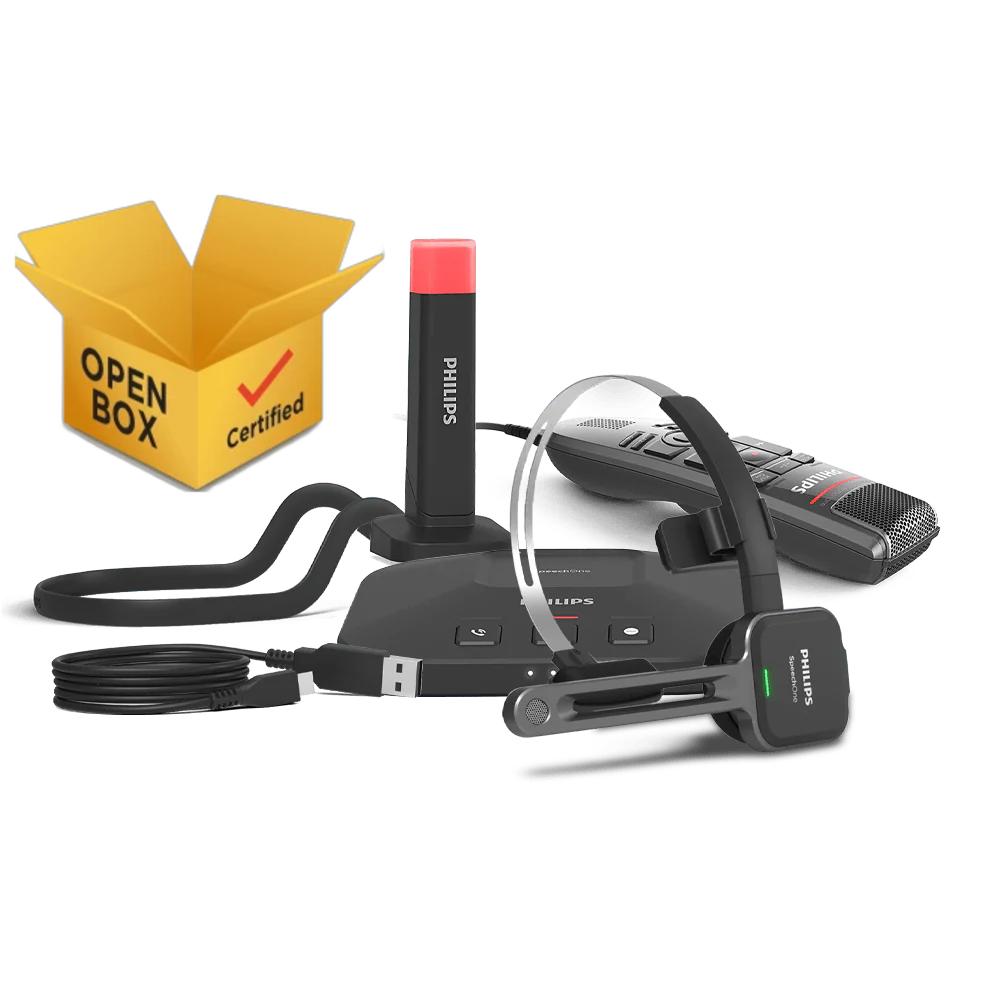 Have you ever considered purchasing an open box product? These products are a fantastic way to save money without compromising on quality.

Open-box products are 'as new' products that have had their original packaging opened. This usually happens when a customer orders the wrong product by mistake, opens the box, and returns it to us. Or if one of our internal staff members needs to take an item out of its packaging to inspect it for one reason or another. These products have never been used, or in some rare cases, they may have been powered or used just once. They come with the same warranty as the unopened equivalent product and include all normal accessories, cables, and manuals.
Experience Unmatched Audio Quality with Philips PSM6500
The only professional dictation headset
with a precision microphone and lossless audio transmission
Philips SpeechOne Wireless Dictation Headset has been specially designed to match the needs of users who frequently use dictation or speech recognition to create documents. The premium decoupled microphone offers crystal-clear recordings, perfect for accurate transcriptions. Ultra-comfortable and ergonomic design, personalized wearing options and hygienic exchangeable cushions make the headset the perfect work companion in both hospitals and offices alike.
Patented 100% lossless speech technology
for smooth wireless voice recording
Studio-quality microphone
for best-in-class speech recognition results
Maximum Wearing Comfort
for long hours of use with three different wearing styles
Ergonomic hand-held remote
allows you to conveniently control all recording and playback functions
Benefits of the Philips PSM6500
The Philips SpeechOne Wireless Dictation Headset PSM6500 offers a range of benefits for professionals, including:
Increased Productivity: The SpeechOne allows you to dictate large volumes of dictation quickly and accurately, increasing your productivity and efficiency. By dictating instead of typing it, you can write faster and more efficiently, allowing you to complete your work in a fraction of the time it would normally take.

Improved Accuracy: The high-quality audio recording of the Philips Speechone ensures that all dictated content is accurately captured and transcribed, which can reduce the risk of errors and improve the overall quality of documentation. This is particularly important in fields such as healthcare, law, and academia, where accuracy and attention to detail are critical.

Comfortable to wear: The ergonomic design and soft ear cushions make the device comfortable to wear for extended periods, reducing fatigue and strain.

Easy To Use: The intuitive controls and wireless connectivity make the device easy to use, even for those who are not tech-savvy.
The Philips SpeechOne Key Features
The Philips SpeechOne Wireless Dictation Headset PSM6000 comes with a range of features that make it an excellent choice for professionals. Some of the key features of this device include
Wireless connectivity: Move away from your workstation and still record wirelessly in superior quality compared to Bluetooth and DECT. This feature eliminates the need for wires and cables, making it easy to move around while dictating.
High-quality audio: The device uses a studio-quality microphone and advanced noise-canceling technology to ensure that your dictation is clear and easy to understand.
Ergonomic design: The device is designed with comfort in mind, featuring a lightweight and adjustable headband, as well as soft ear cushions that provide a secure and comfortable fit.
Easy-to-use controls: The device comes with intuitive and easy-to-use controls that allow you to adjust the volume, start and stop dictation, and even control your computer remotely.
Compatibility: The device is compatible with a wide range of software, including Dragon Naturally Speaking and Microsoft Office, making it easy to integrate into your workflow.
Lossless wireless transmission
Move away from your workstation and still record wirelessly in superior quality compared to Bluetooth and DECT.
100% lossless audio transmission
5 meters / 16 feet wireless range
Audible notification when moving out of wireless range
Maximum wearing comfort
The modern ergonomic design ensures comfortable working,
even after many hours of use.
360 degree rotating boom arm
Wearable on the left or right ear
Exchangeable, magnetic ear and head cushions
All-day battery life
The modern ergonomic design ensures comfortable working, even after many hours of use.
Up to 12 hours of recording time
80% charge after 60 min
Docking Station for wireless charging
Less interruption, more productivity
Reclaim control over your availability by clearly signifying to colleagues
whether you are "available" or "busy".
Automatically turns red when recording or in a call
Change your status manually via the Docking Station
Flexible click on/off magnetic mounting
Ultimate comfort, maximum hygiene
If you share a device with other authors, you can each have your own personal cushions.
Exchangeable, magnetic ear and head cushions
Hygienic boom and remote control
Crystal-clear web calls and online meetings
Communicate comfortably via your favorite VoIP providers in crystal-clear audio quality without any additional installations.
Works with Skype for Business and most VoIP apps
Accept or reject Skype calls via headset and Docking Station
Adjust volume using the scroll wheel on the headset
Take full control
The ergonomic remote allows you to conveniently control your recording application. The keys are freely configurable and can be personalized for any user and application.
Convenient application control
Start, pause and stop recording
Touch sensor for integrated mouse function
Feature 

Description

Connectivity 

wireless technology: 2.4 GHz ISM Band. Modulation: 8-FSK. Maximum range: up to 5 m / 16 ft (in clear view)

Audio recording

Microphone type: electret condenser microphone.
Microphone capsule: 10 mm.
Characteristic: uni-directional.
Frequency response: 200 – 12 000 Hz.
Sensitivity: -37 dBV.
Signal-to-noise ratio: > 70 dBA

Sound

Speaker type : built-in round, dynamic speaker
Speaker diameter : 30 mm
Acoustic frequency response  : 300 – 7500 Hz


Power

Battery type : Li-polymer built-in battery
Rechargeable : wireless via docking station or micro USB
Power supply : via docking station
Battery lifetime:  up to 24 hours of recording
Standby time > 100 hours
Charging time : (80% after 60 min, approx. 2 hours for full charge

Product dimensions
(W × D × H) 

155 × 150 × 140 mm / 6.1 × 5.9 × 5.5 in, 81 g / 2.6 oz

Weight 

276 g / 9.7 oz.

Supported speech recognition software

Nuance Dragon Professional 12.5/13/14/15 Individual/Group, Nuance Dragon Legal 12.5/13/14/15, Dragon Medical Practice Edition 2/3, Nuance Dragon SDK Client Edition 14, MModal Fluency Direct 8.0 and above, MModal Fluency for Imaging 3 and above, Fusion Narrate powered by nVoq

Processor

Intel dual core or equivalent AMD processor, 1 GHz or faster processor

RAM

2 GB (32 bit)/4 GB (64 bit)

Hard-disk space:

30 MB for SpeechControl software, 4.5 GB for Microsoft .NET Framework

Operating system:

Windows 11, Windows 10 (64 bit), macOS 12/11 (Mac functionality may be limited)

Graphics

DirectX-compliant graphics card with hardware acceleration recommended

Convenience 

Wearing Styles: Classic, ear-free, neckband
360 Degree Adjustable Boom Arm
Headset Wearable on Left or Right Ear
Voip Calls with Skype for Business
Voice Prompts in 10 Languages for Easy Guidance (Pairing, Battery Status, Radius of Movement)
Hands-free Dictation with Philips Foot Controls ACC2310, ACC2320, ACC2330
Docking Station with Kensington Lock Theft Protection
Headset Controls: Scroll Wheel for Recording and Volume Control
Docking Station Controls: Accept/Reject Skype Call, Start/Stop Recording, Busy/Available
Remote Control: Touch Sensor with Mouse Function, Record Light Incitation, Freely Configurable Keys
Status Light with Flexible, Rotating Magnetic Mounting System

Package Contents
SpeechOne Wireless Dictation Headset
Docking Station
Status Light
Remote Control
USB cable
Neckband
Headband attachment
Magnetic ear cushion
2 magnetic head cushions
Related products and accessories