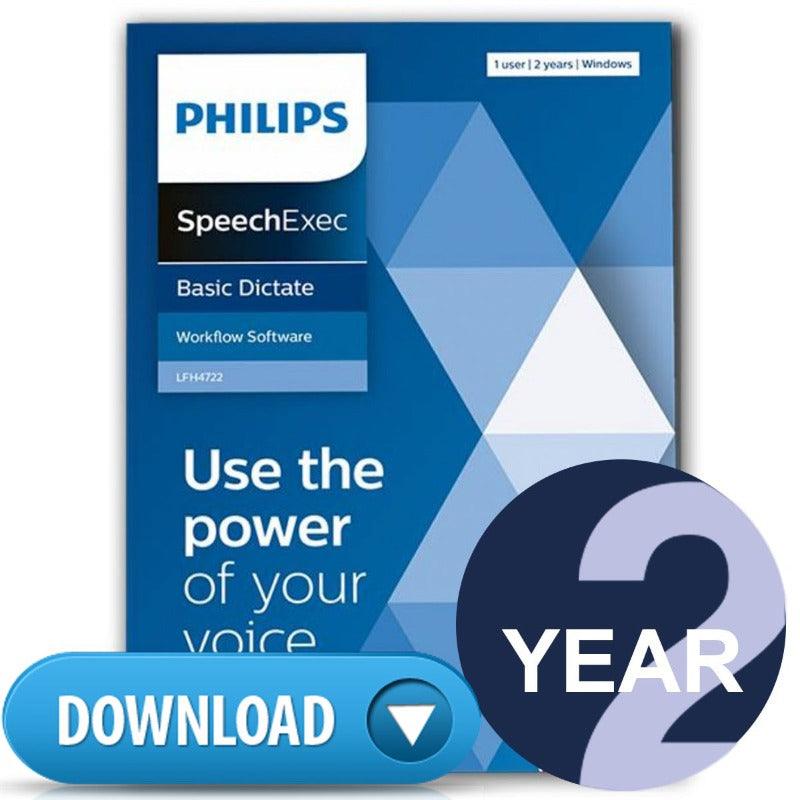 Philips SpeechExec Dictate Software
Please note that Philips SpeechExec Dictate is intended for use by authors with a dictation device and does not support foot pedal playback for transcription purposes. If you require a transcription version, please check philips LFH4612 Transcribe Software
Philips SpeechExec Basic Dictation and Transcription Software:
Enhance Your Workflow with Superior Efficiency
SpeechExec Basic Dictation and Transcription Software links authors and transcriptionists. It facilitates communication, the setup of individual workflow settings and organizational flexibility to help save time and resources. Transcriptionists can playback and conveniently transcribe recorder files using a foot control.
Use the power of your voice with professional digital dictation
In today's fast-paced world, efficiency is key. Whether you're a busy executive, a lawyer, a doctor, or a journalist, you need to be able to get things done quickly and effectively. This is especially true when it comes to dictation and transcription. Fortunately, Philips SpeechExec Dictate is here to help. This innovative solution streamlines the entire dictation and transcription process, making it easier and more efficient than ever before.
Workflow Management And Automation For Enhanced Productivity
Worklist For Easy Work Monitoring And Tracking
Automated file download for quick and convenient job routing
Transcription player with foot control support for hands-free playback control
Flexible Licensing To Access SpeechExec From Anywhere, Including At Home
Optional SpeechLive Connection Available For Even Greater Mobility
Speechexec Transcribe For Transcriptionists
Speechexec Dictate For Authors
Key Features for SpeechExec Transcribe
Philips SpeechExec Dictate is a powerful tool for streamlining your dictation and transcription process. Discover how you can maximize your efficiency with this innovative solution.
Workflow management and automation for enhanced productivity
Easily monitor and manage the workflow between authors and transcriptionists. Recordings and the resulting written documents are automatically routed to the appropriate person for quicker turnaround times.
Worklist for easy work monitoring and tracking
Worklists help both authors and transcriptionists monitor their work status. They save time used for unnecessary status update communication. Files can be organized into sub folders, assigned specific properties and comments and marked as urgent to help organize and prioritize tasks.
Optional SpeechLive connection available for even greater mobility
Philips SpeechLive cloud dictation workflow solution gives users constant file access via browser for greater flexibility and mobility. With SpeechLive, authors can dictate with their smartphone from anywhere and send dictations directly to their SpeechExec software. It also features a transcription service, where trained professionals quickly type up recordings for the author.
Flexible licensing to access SpeechExec from anywhere, including at home
Licenses are now assigned to individual users, not to individual PCs, giving you the freedom to work from your desktop at work or from a laptop off-site. This also allows you to easily reactivate a license in case of a hardware failure.
Automated file download for quick and convenient job routing
SpeechExec Basic allows authors to automatically download all their dictations from their voice recorder straight into the software and route to the appropriate destination via their local network, FTP server, SpeechLive or email.
Transcription player with foot control support for hands-free playback control
The software comes with a conveniently integrated transcription player with pause, fast forward and rewind options. Together with the configurable Philips foot control it allows for comfortable and quick transcription. Predefined templates can be used, so documents are automatically created with the appropriate header and footer, saving you even more time.
technical specifications for Philips Speechexec Pro Dictate
Audio
Audio Recording format: .dss, .ds2, .wav
Playback format: .dss, .ds2, .wav, .mp3, .wma
Workflow
File transfer: LAN, email,
Automatic download from portable voice recorders
Security
DSS Pro encryption: real-time AES encryption with 256 bits
SpeechExec encryption: AES encryption with 256 bits
Supported hardware:
Philips SpeechAir Smart Voice Recorder, Philips PocketMemo Voice Recorder DPM8000 series, Philips SpeechMike Dictation Microphones,
Supported programs
Email programs:, Microsoft Outlook Express 7, Windows Live Mail, Microsoft Outlook 2003/2007/2010/2013/2016 (32 bit), Microsoft Exchange Server 2003/2007/2010, Lotus Notes 6.0.3/6.5.5, Novell GroupWise File servers
System Requirements
Processor: Intel dual core or equivalent AMD processor, 1 GHz or faster processor
RAM: 4 GB (64 bit) Hard-disk space: 100 MB for SpeechExec software, 4.5 GB for Microsoft .NET Framework
Operating system: Windows 10 Pro/Enterprise (64 bit)
Graphics: DirectX-compliant graphics card with hardware acceleration recommended Sound: Windows-compatible sound device
Browser: Internet Explorer 9 or higher, or the current version of Chrome or Firefox Free USB port Internet connection for required software activation